Intuitive editor for creating synoptic sreens
Graphical presentation of data
As part of the DataPortal account, we offer an intuitive editor for creating vector graphics. All you need to do to build your first screen is arrange the objects on the screen and define their properties. With the help of available animation scripts, you can further enrich and personalize the application.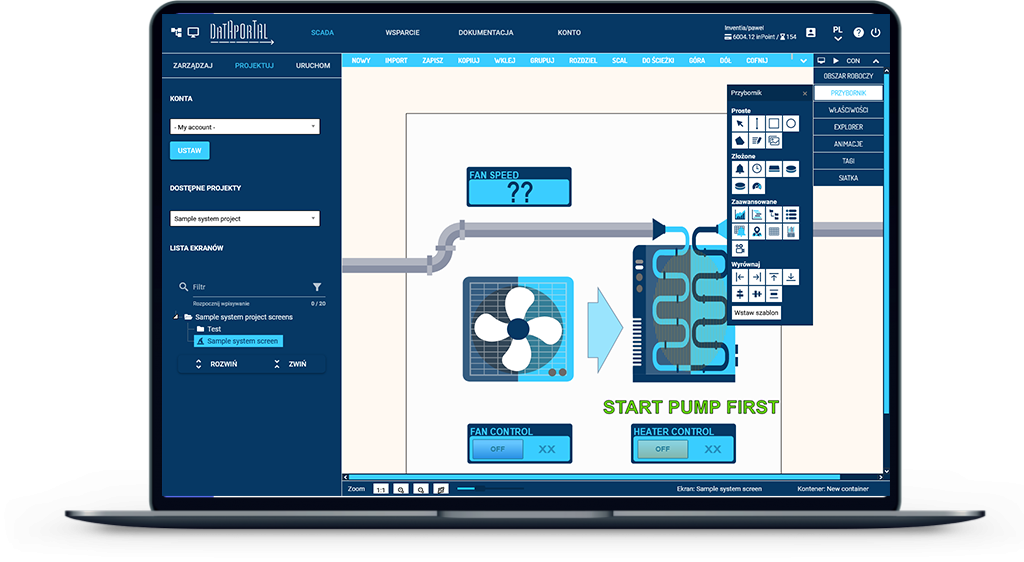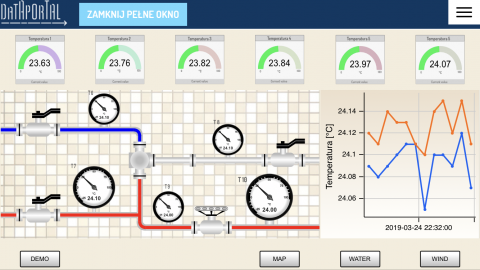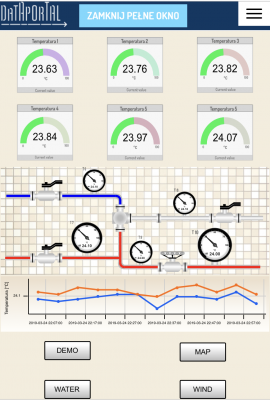 Responsive synoptic screens
Scalable Vector Graphics (SVG)
Graphics in the system remain crisp and scalable despite different resolutions or multiple zooming. The screen is ideally suited to all types of devices, from smartphones to laptops and large screens of large-format graphic walls in dispatch centers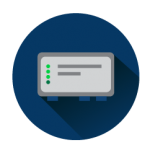 Library of ready-made graphic elements
Don't you want to spend time designing graphic objects from scratch? Do not worry! Check out our container of ready-made graphic elements! The prepared library consists of commonly used industrial devices, such as tanks, pumps, indicators, valves, lamps, switches, and others. The applied vector format of the objects allows freedom in their possible scaling. You can resize an object to fit your drawing without losing details. Importantly, ready-made elements can coexist with those drawn on your own.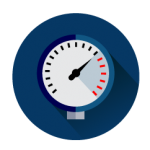 Spatial distribution of objects on the map
DataPortal offers a ready-to-use map control that allows you to build a synoptic screen with the spatial arrangement of objects. The color of each of the map markers, symbolizing a given object in the field, can be individually animated, depending on the value of a single variable or a complex expression. Additionally, you can use a script which, after selecting an object from the map, will allow you to change the presented screen, displaying e.g. details of the object.
Advanced visualization wizard
Design mode is the most complex part of DataPortal's user interface. It is also the area where Account Administrators have access to the list of all screens, always visible for the selected project and with the possibility of grouping them into folders. They can also modify their names and delete them. The main functionality concerns the editing of the screen itself, which takes place in a special application resembling SCADA software, but running in the user's browser and saving the content in the DataPortal database.
The editor software includes the following functionality:
Frequently asked questions
If you did not find the answer to your questions contact us:
E-mail: dataportal@inventia.pl
Tel: +48 502 056 503